What is Screenprinting?
Screenprinting is the most common way to print garments, especially in bulk. The name comes from its use of mesh screens to push ink through portions of a screen. For most jobs we recommend going with screenprinting due to the quality and consistency it produces. Mother Cutter offers screenprinting as well as heat transfer vinyl and embroidery to create custom apparel for a variety of needs.
But How Does Screenprinting Work?
The Screens
Screenprinting works by taking polyester screens that are stretched to fit onto a metal frame and applying emulsion to block the entire screen so that nothing can push through the mesh. Once everything is blocked we can use printed film positives and use UV light to loosen the emulsion within the area of the film positive. At that point we take the screens and blast them out with a pressure washer so that the ink will only push through where the film positive (the art) was placed. Each screen can only be used for one color on a print.
The Press
Once the screens are blasted for all colors of a design we secure each screen onto the press and align them using registration marks that are blasted out for each screen. From there, its a matter of layering the ink colors on each screen for the design and using a squeegee to push the ink through the screen onto a shirt. Between each colors we use a flash dryer to make sure none of the ink mixes on the shirt - or the screen for that matter!
The Dryer
The main dryer used for screenprinting is a converter belt-style dryer used to ensure the ink has completely cure to the shirt. Once it comes out on the other end we thoroughly inspect the shirt to make sure it looks exactly like the design and adjust as needed.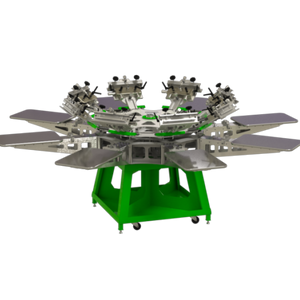 So What Can You Screenprint? - Other Than Custom T-Shirts
Whats the cost?
Asking how much it costs to make a shirt is like asking a contractor how much a house would cost without any of the necessary planning.
There are many factors that go into our pricing: The garment itself, The number of colors, color changes, specific pantones, art design if needed, etc. We encourage you to give us a shout and we'll be more than happy to give you an accurate, competitive, quote. Note that due to the nature of screenprinting we do have a minimum amount of garments per design.
Contact Us
For Order Inquiries Here's Some Questions We ask Everyone:
• What service are you looking for? (Screenprinting, Vinyl, Embroidery, Design, Fundraising, Something Else, or Multiple Services?)
• How many items are in your order?
• How Many Print Locations and What Size of Print? (Front, Back, Sleeve, etc.)
• How Many Colors in the Design?
• When Do You Need it By?