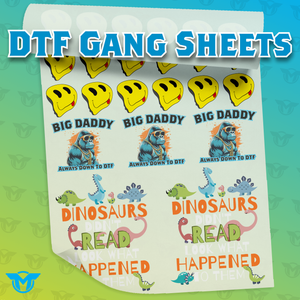 Create your own Gang Sheet
Put as many images as you can fit. Pay by the Square foot and not by the Image. $8 per linear foot. Remove backgrounds, and size and edit your image in our editing software app.
*Your images will come on a roll and not cut.
**Gang Rolls must be shipped in a separate box and therefore if ordered with other items shipping will be calculated based on 2 separate shipping costs**
Your artwork must be print ready, at the size you want it to be printed. 
Minimum 300 DPI resolution .PNG is required for best results. Please ensure that your background is 100% transparent otherwise it will be printed as it is received.
If you have any questions please contact us prior to ordering. 
DO NOT MIRROR 
* Please ensure the artwork is exactly as you want it printed. All artworks will be printed the way we received them - we will not edit your artwork or remove any backgrounds. If your image is NOT transparent and has a white background, that white background WILL be printed. 
** By ordering you declare that you have the copyrights and or are the owner of the artwork to be provided.