Other Services - There's More?
We try to customize as much as possible so that we're your one stop shop for everything customized. Here's a few other services we offer:
Custom Promotional Products - mugs, glasses, lanyards, pens, bags, koozies, coasters, sunglasses, notebooks, tents, tablecloths, and more! If you're not sure if we can customize something ask us.
Signage Products - banners, coroplast, posters, foamcore, table tents, flags, metal printed signs, etc. we can also do vinyl signage as well.
Paper Print Products - business cards, flyers, postcards, envelopes, folders, packaging, and others.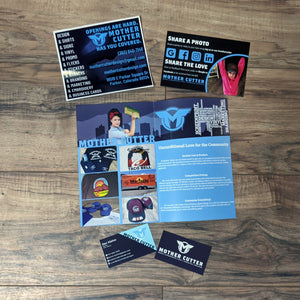 Contact Us
For Order Inquiries Here's Some Questions We ask Everyone:
• What service are you looking for? (Screenprinting, Vinyl, Embroidery, Design, Fundraising, Something Else, or Multiple Services?)
• How many items are in your order?
• How Many Print Locations and What Size of Print? (Front, Back, Sleeve, etc.)
• How Many Colors in the Design?
• When Do You Need it By?